Professional Chimney Flashing Repair for New England Homes
Your chimney is an essential component of your home, and it will likely need professional maintenance or repair at some point. Not only does it add to the beauty of your property, a chimney also plays an important role in venting out any combustible products inside your home.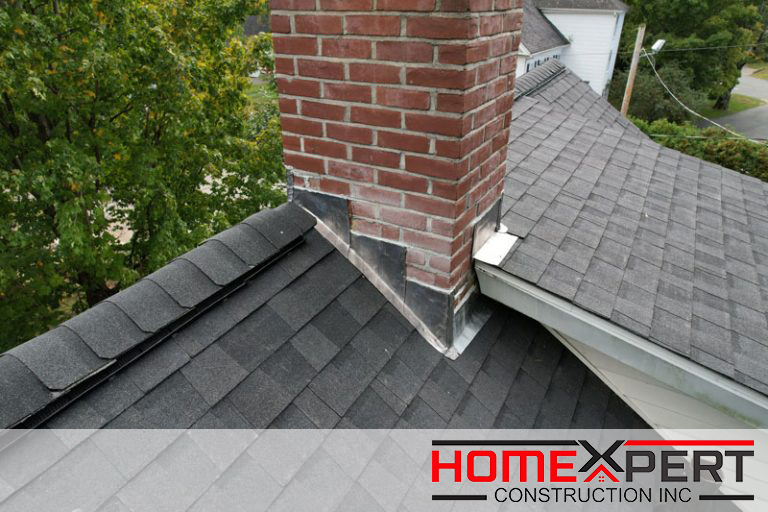 Due to the chimney's location on the roof, it is crucial to have properly functioning flashing around it. Flashing often becomes damaged, however. With chimney flashing repair or new custom flashing installed by HomeXpert Construction Inc., you can rest assured that your chimney will not leak or compromise the durability of your roof.
Do You Need Chimney Flashing Repair?
There are telltale signs that your chimney flashing needs repair. You can look for these common signs of damage in order to determine whether or not you need to call us for a free inspection. Signs include:
Water stains on ceiling near the chimney
Cracks in the chimney
Mold growth
Visibly damaged flashing
If you are unsure about your need for our repair services, please don't hesitate to contact HomeXpert Construction for a free inspection. We would be happy to perform an assessment of your chimney's flashing. We will document any and all issues with the structure and provide you with a free estimate for any needed repairs.
Other Chimney Repair Services
HomeXpert Construction Inc can update, repoint and refinish your chimney so that it improves your curb appeal and, most importantly, keeps your family and home safe. Our services include:
Chimney Repointing: Reinforce the structure of your chimney.
Chimney Caps: Protect the inside of chimney from the elements.
Waterproofing: Stop all water leaks in your chimney.
Request a Free Chimney Consultation Today!
When you need to hire a contractor for chimney flashing repair or other chimney restoration services, trust HomeXpert Construction Inc. We are a business with a reputation for dependability and honesty. Contact us today for a free on-site consultation and estimate! Call (508) 315-7210 or submit our online contact form.