High-Quality Vinyl Siding Repair & Installation
Popular for its relatively low cost and attractive appearance, vinyl siding is a great choice if you are considering a new siding installation or replacement. HomeXpert Construction Inc. offers professional repair and installation services using CertainTeed vinyl siding products. We can update your New England home to look like new!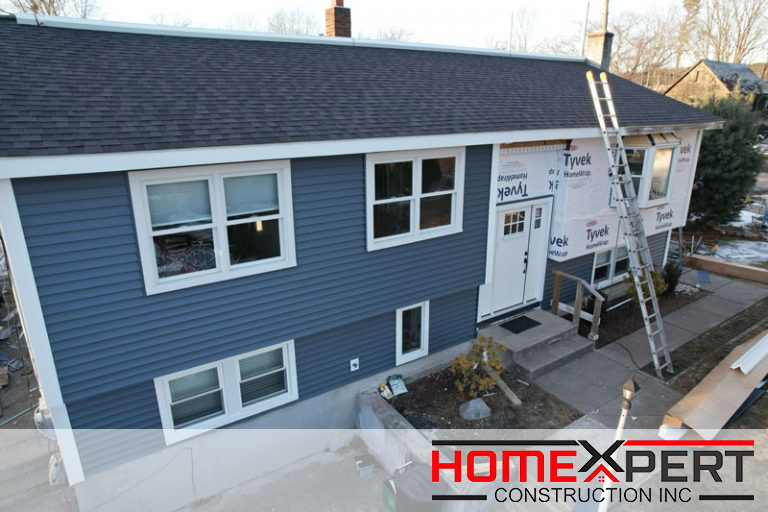 4 Reasons Homeowners Choose Vinyl Siding
We highly recommend vinyl siding to our customers. This common siding option is often chosen for the following benefits:
Versatility. You will find a large selection of styles and colors to choose from when you decide on vinyl siding. Vinyl comes in everything from neutral colors to vivid reds, greens and blues.
Affordability. A perfect choice for the budget-conscious homeowner, vinyl siding is the least expensive siding material compared to others.
Long life. Vinyl siding is a durable exterior option. It can last for decades, thanks to its resistance to rot, insects, wind, hail and other causes of siding damage.
Energy efficiency. The siding products we install are typically insulated, providing a thermal barrier for your home. This greatly improves the building's overall energy efficiency.
Is CertainTeed Vinyl Siding Right for You?
HomeXpert Construction is committed to using only high-quality materials. Our customers can count on us to recommend the best brands in the industry, and that is why we most often install CertainTeed siding products. We have seen the way CertainTeed products stand up to weather and provide our customers with beautiful curb appeal. If you are wondering if CertainTeed siding is right for you, please don't hesitate to get in touch with us to discuss the features of CertainTeed products, as well as our alternative brands.
Request a Free Siding Consultation Today!
Whether you need a minor siding repair done or it's time for siding replacement, you can trust HomeXpert Construction Inc. for siding restoration work you will love. Contact us today to schedule a free on-site consultation and estimate. Call us at (508) 315-7210 or submit the contact form.